Italy: Spring 2012: Thursday, May 17: Day 23: Pisa-Cannara
The sun is shining again on our final morning in Pisa. Before we check out, we walk over to the Museo dell'Opera del Duomo, where many of the original pieces from the Cathedral are kept. On the way, we get yet another angle on the tower.
We have usually had very good luck with Duomo museums and this one is no exception. The museum is very nicely laid out with good lighting, good signage in English (a big plus for us) and some amazing things on display. We spend more than an hour walking from room to room; for most of the time, we are the only people in the museum. Here are pictures of some of the exhibits that we liked the most.
A set of original bronze doors from the front entrance
rooms full of statues and carvings from the outside of the building, some in rooms with frescoed walls.
some terrific intarsia work--pictures and designs composed of pieces of colored wood.....amazingly intricate and beautiful.
an lllustrated bible with text read by the priest and pictures visible to the congregation so they can follow along.
and a lovely garden in the cloister
right under the Torre Pendente.
We have had a good time in Pisa--both exploring the city and revisiting the Piazza dei Miracoli.
We get on the road and stop for our (almost) annual lunch of Tuscan fried chicken with vegetables in Lucca at the Vecchia Trattoria Buralli. Delicious as usual.....the frying is done in Jewish Tuscan style--flour first then egg, no breadcrumbs. We stop to see our friend Paolo at the Piccolo Hotel Puccini but he isn't there so we get back on the road for our next stop--Cannara.
Cannara is a small town just outside of Perugia...we are staying at a new bed and breakfast in one of the old palazzos in the center--the Palazzo delle Signorine.
We have some difficulty locating the palazzo and we circle the town a couple of times before arriving in the right piazza....hard to believe we could get lost in such a small town. We are met by Jennifer McIlvaine, a young American who lives in Cannara. She does cooking lessons and guides people around the area
and is helping the Italian owners of the palazzo to get started. It turns out that we are the first actual paying guests. Since we are the only guests, we have the run of the place so, in addition to our spacious bedroom,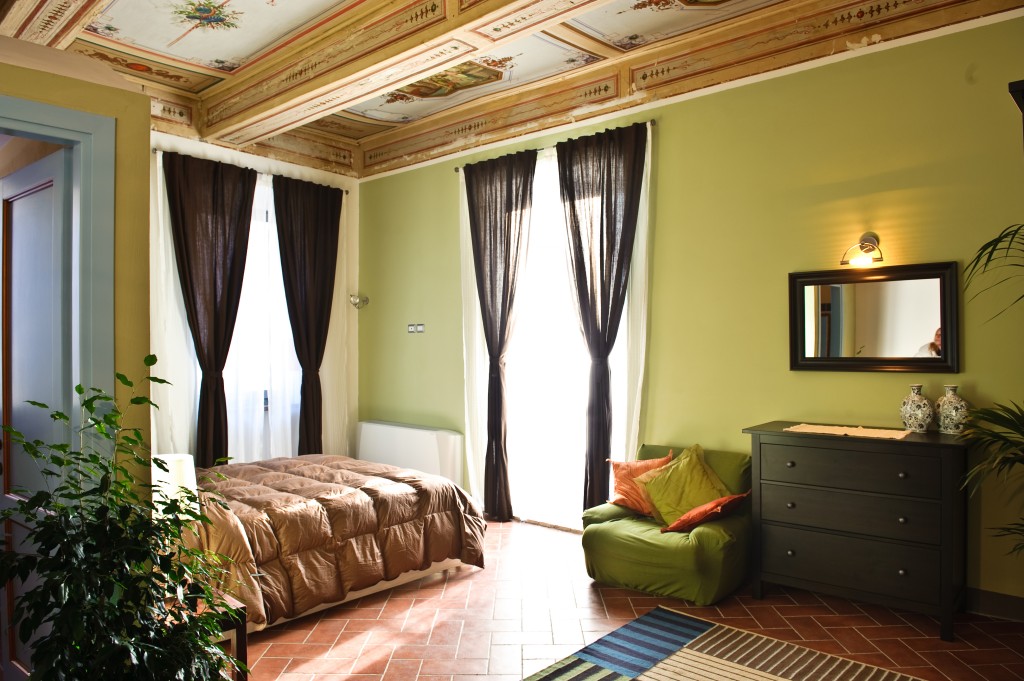 we get to hang out in the skylighted front room and the well-equipped kitchen. (Jennifer does her cooking classes there.)
I go out for my exploratory stroll around town....it doesn't take that long and many shops are closed on Thursday afternoon. But I make a few discoveries.....
a self service laundromat
a bar with a playground with inflatable play equipment
and a porchetta truck parked in the supermarket lot.
....all valuable intelligence for our stay at the villa just outside of town where we are staying next year.
For dinner, we walk around the corner and eat at Per Bacco, where we had eaten in the summer of 1998 when Seth was studying at the University of Perugia. The place has been redecorated since our last visit but it is under the same management. The place is very pleasant but I think the menu is a bit too "creative" for me. Diana chooses the tasting menu--a plate of assorted appetizers, two pastas--gnocchi and tagliatelle, a veal cutlet and strawberries for dessert. I have an onion based antipasto--Cannara is famous for its onions--a flan with onion cream sauce and bruschetta with an onion topping followed by a pasta dish with leeks and prosciutto. The owner is very charming and attentive to us until a couple of regulars walk in and he gets involved in long discussions with them.
In any case, we don't think we will be going back there tomorrow...but perhaps we will give it another try next year.
Back to our palazzo through quiet streets....tomorrow we are off to check out the Fattoria del Gelso.