Italy: Spring 2012: Saturday, April 28: Day 4: Livorno-Palau
An early morning wake-up call for 5:30 is botched by the hotel but we are up anyway..we have to be at the ferry landing by 7 am for our Sardinia voyage. We arrive without incident and in plenty of time....and then proceed to sit with all the other cars for more than 30 minutes until the ferry from Sardinia docks and unloads.
and speedily swallows up all the waiting vehicles...trucks, buses and cars...into its two-deck high parking lot on the first two levels.

After some confusion about where to go (we are ferry newbies, after all), we check in and get our seat assignments in the cabin with airline style seats. But we want to go out on the open deck to watch Livorno fade away as we head for the open sea.
It is pretty chilly and windy on the open deck so we go down one level to the public area and get some breakfast at the bar. After we eat, we explore the areas of the public deck...there is a children's playground, a big multi-level lounge in the rear, a formal sit-down restaurants, several other bars, a self-service cafeteria and a gift shop. We sit down at a table next to the window and Diana starts to quilt while I see how the advertised wi-fi works. Turns out not well and the light on this side of the ship is not as good as on the other side so we switch areas and settle in.

I notice that many of the passengers seem to be regulars...and have scoped out the best places to stretch out or where there are electrical outlets to power computers. There is lots of card playing and many people are heavily involved in crossword puzzles and word games.
I spend a fair amount of time just walking around and exploring....Diana sits tight and quilts. The trip is scheduled for six hours and we quickly find that the charm of watching the water go by is short-lived. But the journey does go pretty quickly even though we are slowed down by fog in the middle of the trip. We have a decent pasta lunch from the cafeteria and soon we are within sight of the Sardinian coast.
We never do return to to the reserved seats that we had paid for...and on our next trip, we will not reserve them.
Diana gets approached by an Italian lady who is very impressed with the quilting....and they discuss that for a while. The woman, a Florentine with a house on Sardinia, is very friendly--inviting us to visit her and offering introductions to friends in some of the places we will be visiting.
Once off the ferry, we decide on the "scenic route" from Olbia (where the ferry lands) to Palau, a small town in the northeast where we are staying for two nights. We make a few stops to admire beautiful views
but the towns that we pass through--Porto Cervo, Baia Sardinia, Porto Rotondo--are high-end playgrounds for the rich....immaculately manicured and perfectly groomed--not exactly up our alley.
We do stop for a gelato in a very modest, even down-scale town--Cannigione.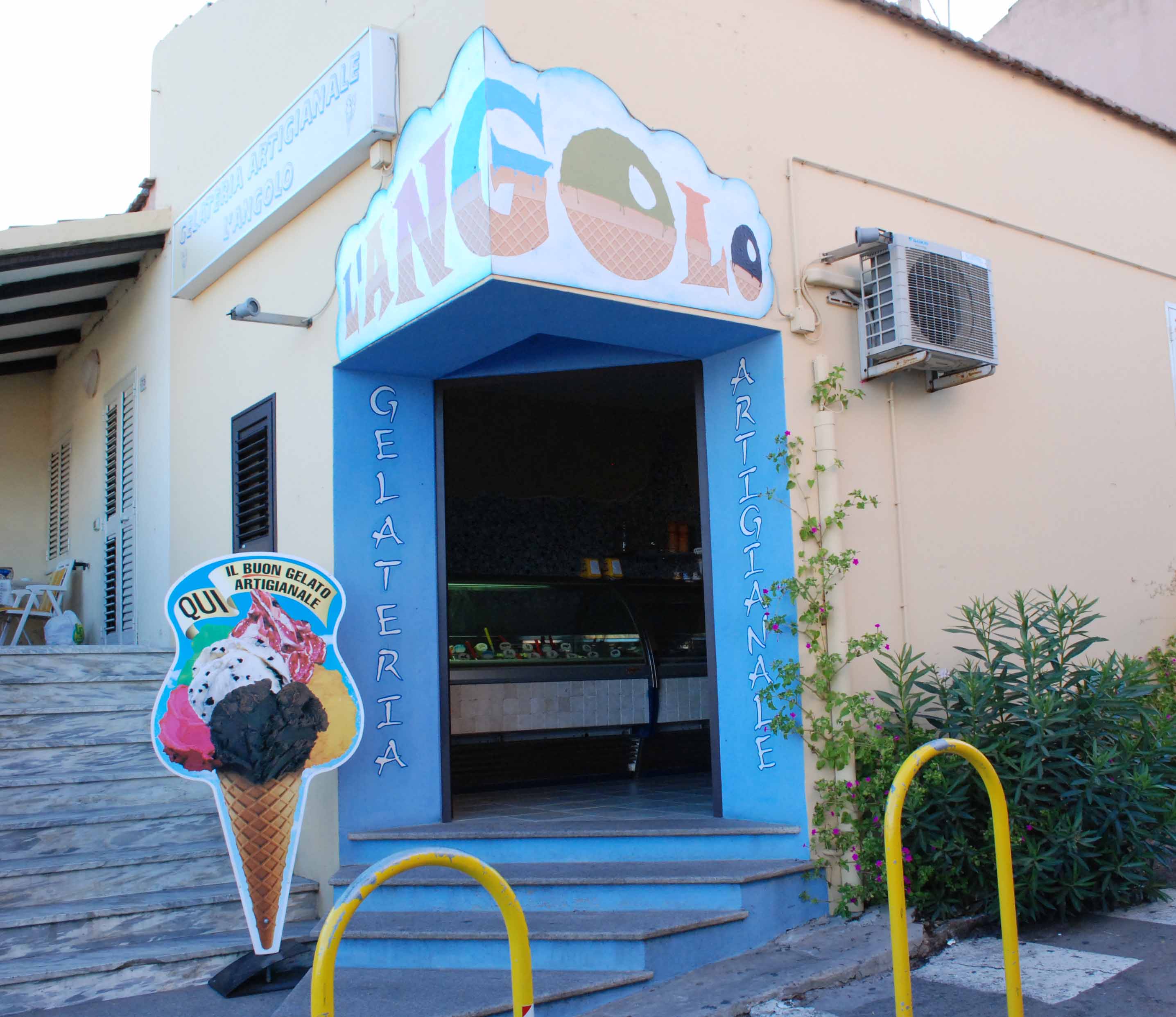 Very good gelato and no glitz.....
When we pull into Palau and find our hotel, it has started to drizzle and the very friendly hotel desk clerk is quite pessimistic about the forecast for tomorrow. The hotel--La Vecchia Fonte--is very nice and we have a suite with two rooms and a terrace. We get settled, relax and play on the internet until dinner.
We eat just down the street at a very bustling and brightly lit restaurant, Re Ferdinando. (There is a lot of Spanish influence all over Sardinia.) My dinner is very good...Diana's is less successful. I have a plate of Sardinian gnocchi with pieces of fish and clams to start, followed by an excellent fritto misto. Diana's Sardinian gnocchi with sausage and tomato sauce is dull and the special house preparation of fish is just okay. We have a nice local white wine and enjoy the complimentary and delicious white pizza that is brought to every table. Diana has a "sebada", a cheese filled pastry topped with honey that is a Sardinian speciality.
Tomorrow we are planning to take a short ferry ride to the island of La Maddalena and visit the home of Giuseppe Garibaldi on the neighboring island of Caprera...but all is dependent on the weather.

Jim and Diana